In the Nourish Garden with Jahn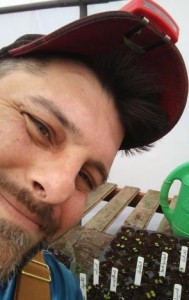 The garden is a happy place right now. The new beds we put in this year are filling out nicely with fresh calendula, nasturtiums, and other beneficial herbs and flowers. Hops planted in May are making their way up poles; promising shade for the coming August heat.
Another happy thing to see are the honey bees. A new swarm has hived nearby and the workers are so plentiful the buzz from their collective wings.
If you're looking for a little summer entertainment or want a stroll before dining, come grab a fun new map of the gardens from the lobby and check your plant IQ.
From the Nourish Kitchen
Local Nameko Mushrooms: we are excited to be serving locally grown mushrooms from Skokomish Ridge Mushrooms. Here we have dusted Halibut with dried mushroom powder and then after a quick sauté we have loaded up the filet with an assortment of shiitake and nameko mushrooms. The nameko is an interesting little mushroom, it has a glossy cap which is a natural protein gelatin, which stops it drying out in nature. In the kitchen it has its own natural glaze and will help thicken any dish it is added to. It is a favorite in Asia and is often use in Miso soup.
From the Nourish Lounge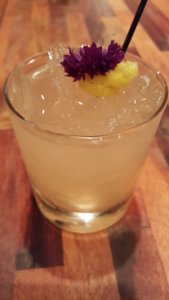 Midsummer Night's Dream: gin, rose syrup, lemon juice, cardamom bitters and Dry's vanilla bean soda deliver an exotic summer drink to sip slowly on the patio while your dinner is being created. (Mention this newsletter and receive $1 off Midsummer's Night Dream).
Nourish Happenings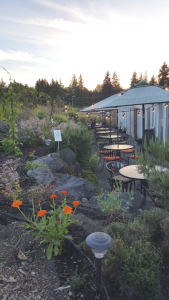 Nourish Patio Dining: our patios are the place to be for summer lunch or dinner.
Summer hours: we have changed our summer hours and are open for lunch and dinner, Wednesday through Sunday, with Sunday brunch and dinner too.
Third Thursday Tea: August 17th at 3pm. Please make your reservation early as we bake for the number of guests signed up. We will serve smoked salmon tea sandwiches, summer berries and cream, little tarts, and lots of choices of tea from Sequim's Spice and Tea Shop.
Olympic Cellars Summer Concert series: this summer we are excited partner with Olympic Cellars to be their food vendor for each of their weekend concerts. 5% of sales of food will go to the cause Lisa and Olympic are supporting each week. You can pick up the concert schedule at Nourish and online at OlympicCellars.com. Concerts run through August.
Nourish Swag: we now have T-shirts – come and get yours, they are going fast! We have American Apparel Junior cut and an Adult cut too.