This decadent flourless cake is like a super-moist fallen chocolate soufflé with a delicately crisp crust. It puffs up while it bakes and then falls as it cools—so don't panic. Be sure to give it at least 20 minutes to cool before serving; if it's too warm, it will be tasty but somewhat difficult to cut.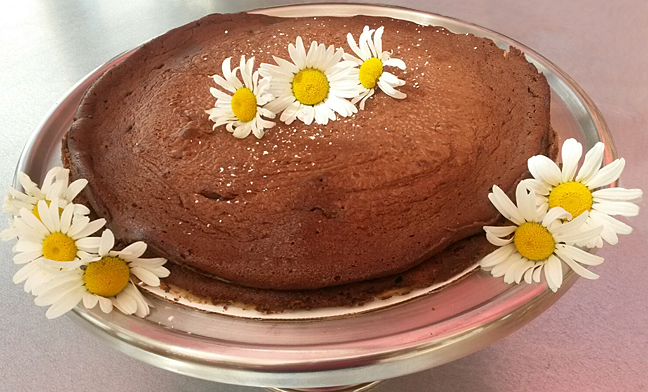 INGREDIENTS
6 ounces organic dark chocolate, melted
5 fresh free-range eggs
1 cup cane sugar
1/3 cup espresso
1 cup unsalted butter, at room temperature (or coconut oil for dairy free)
1 teaspoon pure vanilla extract
PREPARATION
Preheat the oven to 350°. Grease a 10-inch spring-form pan and wrap the outside with foil to prevent leaking.
Melt the chocolate.
Whip eggs and sugar on high speed, until very thick and fluffy. Add the espresso and mix well. Add the butter, a few pieces at a time, and beat until well blended. Add the melted chocolate and vanilla extract, and mix until smooth.
Pour the batter into the prepared pan and bake until the cake doesn't jiggle, about 30 minutes. Cool for before removing pan, then chill before cutting and serving.
Dust with a little powdered sugar if desired.
(recipe adapted from Caprial's Desserts by Caprial Pence)