Nourish is pleased to offer Finnriver Cidery beverages at our restaurant and to support a farm that is inline with our own values and mission.
Our mission at Finnriver Farm & Cidery is to reconnect people to the land that sustains us and to grow community! We are striving to create deep-rooted and fruitful connections to the land we farm and to the living community as a whole. We seek to 'serve the land with cider'  by earnestly pursuing our vision of a healthy food culture and vibrant rural farm community. We are committed to organic agriculture, human-scale production, local economics, traditional craft, community collaboration, farmland conservation, habitat restoration, and land-based education & celebration.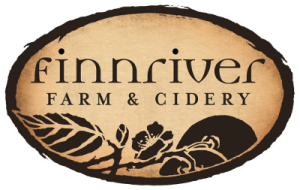 Since Finnriver started in 2004, they have been an integral part of a rural agricultural renaissance in the Chimacum Valley and they remain committed to the social, economic and ecological vitality of their place.
Finnriver has become a role-model of a financially viable small-scale organic farm and cidery. They not only provide a livelihood for their own families, but also provide local jobs and support neighboring businesses with their commerce. As vendors at regional Farmers Markets, and as an agricultural destination that hosts thousands of visitors a year, they create opportunities for conscientious consumer practices. Finnriver is also pleased to be part of innovative economic initiatives in the region.
The Finnriver crew farms and ferments on 80 acres of organic farm and orchard in Chimacum, along a restored salmon stream on the north Olympic Peninsula of Washington. While the farm is remote, it's on the forefront of the Pacific Northwest hard cider revival and is committed to producing both traditional and innovative hard ciders using premium, organic ingredients while maintaining an authentically farm-crafted and land-based operation that is a Washington State Certified Organic Farm, with Salmon Safe certification as well. Finnriver is also a Certified B Corp, joining the global movement to make business a force for good, to conduct their work as if people and place matter, and to 'B' the change we seek in the world.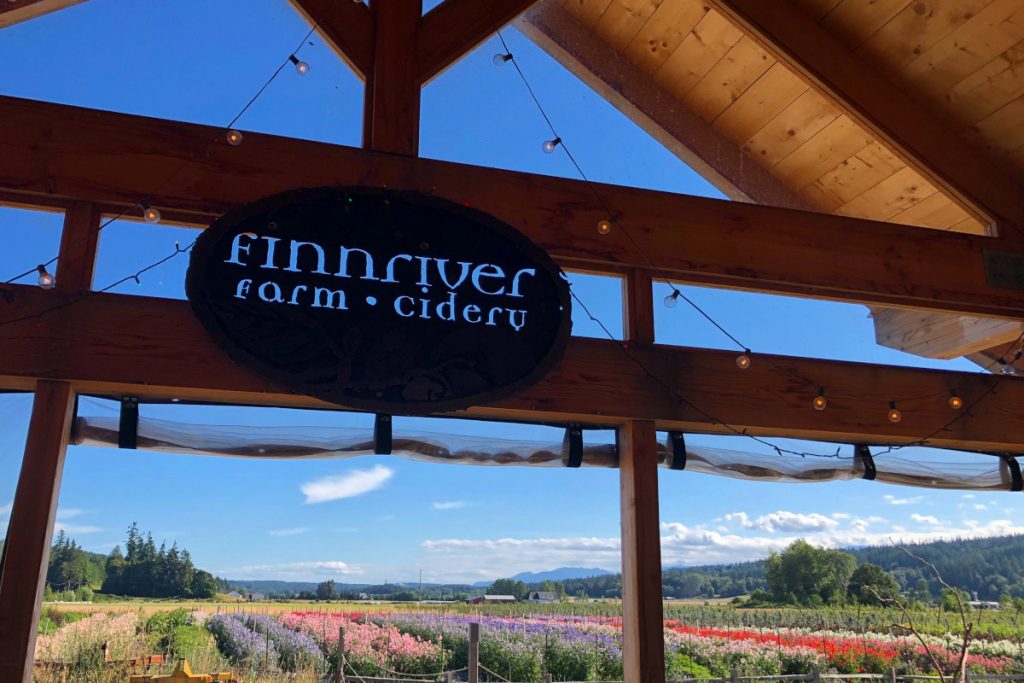 Organic apples are sourced from across Washington state; as well, they grow their own organic orchard of over 6,500 trees, with 20+ varieties of heirloom and traditional cider apple varieties. They aspire to serve the land with cider — by caring for the soils, watershed and community while crafting award-winning premium ciders. Finnriver ciders are a tribute to old hard cider traditions but also offer an approachable, fresh perspective on the possibilities of the fermented apple. They handle each bottle with care and are committed to creating a company that allows them to grow community and to pursue the triple-bottom-line balance of people, planet and profit.
Finnriver has diversified their operation so they can grow productively on the land while still tending it wisely. By growing a range of fruits and vegetables, raising pastured poultry and pork, and fermenting hard ciders and fruit wines, they are a well-rounded food and beverage source for the community. Finnriver grows mixed organic berries and vegetables in the fertile fields of the Chimacum Valley and in greenhouses boosted with CO2 pumped in from their cider fermentation tanks; they raise poultry and pork on pasture, supplemented with locally grown grain soaked in whey from a local creamery; and they grow an organic orchard of antique and heirloom apple varieties to preserve the genetic diversity and cultural heritage of these old varieties.
Finnriver frequently opens its fields to visiting groups for educational farm tours for youth groups, camps, schools, universities, volunteer groups, corporate retreats and work training programs. We believe in making the farm a resource to inspire and educate and are pleased to form partnerships with community groups who seek a connection to local agriculture. We participate in the Jefferson County FIELD intern program, to offer aspiring farmers a chance to live and learn on a working farm. In partnership with local and regional conservation organizations, we installed the Soil & Salmon Trail that guides visitors through our fields and into the salmon restoration area, and shares a history and vision for sustainable land use.
Finnriver is now the hub for an extended multi-generational neighborhood of families and crew that share the daily rhythms of farm and cidery life, as well as gathering regularly for community events. They have developed a service-based U-pick model that allows willing volunteers to develop a relationship with the farm, and earn membership in their Berry Collective–an affordable and enjoyable way to harvest the summer berry crop.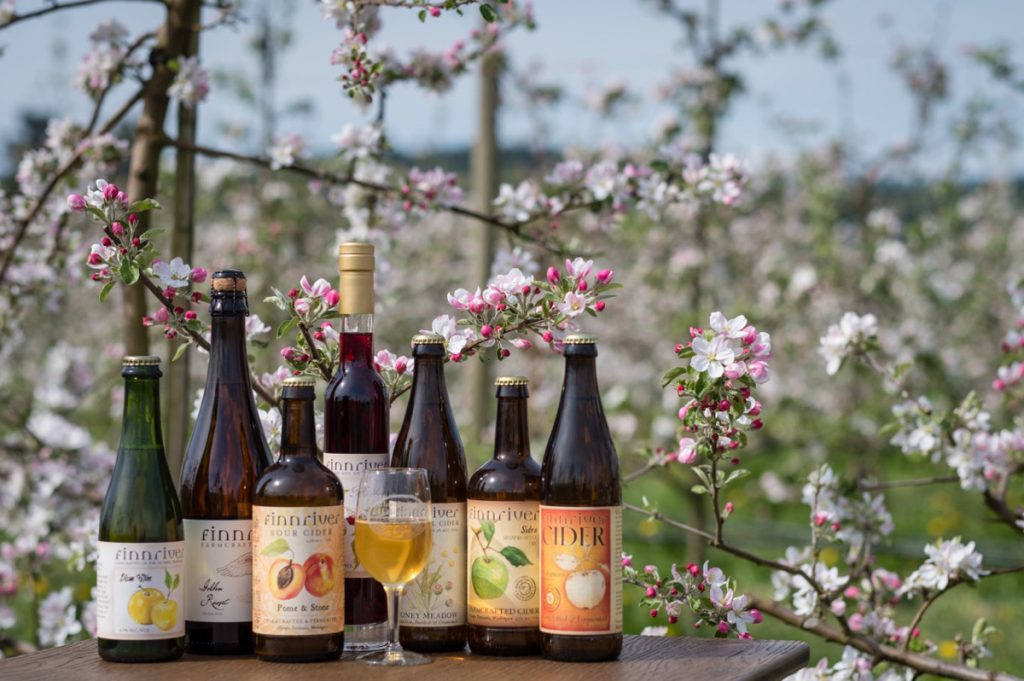 Finnriver welcomes visitors from around the world, offering guests a chance to see a working farm in action and to feel a vital connection to the land. The Finnriver Cider Garden is open noon-9pm daily, year-round, with local food vendors daily in the summer and live music on the weekends. Sample, enjoy, and purchase hard ciders and fruit wines, as well as seasonal snacks and other sundries in their rustic farm Taproom, Tasting Porch and Farmware Store. You can find seating in one of several covered structures in the Cider Garden.
FINNRIVER FARM & CIDERY
124 Center Road, Chimacum, WA 98325
360-339-8478 | info@finnriverfarm.com