In The Garden
It's chilly out there! Winter clean up is happening, the pears have just about quit dropping. Jahn has been making his own charcoal as soil amendment. Hunt him down and he'll tell you all about it! Now's the time we review this year's production from the garden and start planning for next year. Going through seed catalogs will keep Jahn busy.
Thursday's are Date Night at Nourish
Have a night out with a special someone. Enjoy a 3-course menu for $25 per person, usually two options with appetizer, soup or salad and dessert. Vegan/dairy free options.
Shining the Spotlight on Katrina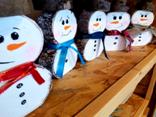 Katrina has worked with us since we first opened, serving you lunch for more than five years. Originally from Missouri, she has raised her two boys here in Sequim, since 2003. Katrina recently discovered she has hidden talents for rebuilding, refurbishing and repurposing furniture! Check out her Facebook page: Kats Custom Creations, where you can often see her step-by-step process or "before and after" shots. Katrina keeps furniture from ending up as landfill and gives it a new lease on life. We love that! Katrina is also selling some of her seasonal decorations at the restaurant. These are made with remnants from her other projects and are cute as can be!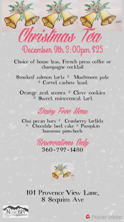 Deck The Halls!
What better way to enjoy a Sunday afternoon than sipping tea and nibbling treats with your closest friends and family! Tea is Sunday, December 9th, at 3pm. This event is reservation only as we bake especially for you. Call or email us today! 360-797-1480. We might not be quite as fancy as the Empress in Victoria, but we do serve a lovely spread for about 1/3 of the price—also no dress code and no bouncy winter ferry ride either!
Your Holiday Gatherings, Staff Lunch…
We still have a few dates available for holiday party bookings. The Bell Room seats from 12 to 50 people. The lounge can be booked for a sit down group of about 12 or a stand up cocktail party of 25-30. Ask us about a menu to fit your budget!
Local Holiday Gifts
If you are looking for a local gift, we offer gift certificates for service in the restaurant or our Dine at Home meals. We have our gluten free baking mixes, which make great hostess gifts. We have a couple of fun gift packs combining local Rainshadow coffee paired with our mugs or local Wind Rose wines with a cork keyring from a local artist.
Speaking of Artists…

Iris Edey is our artist for December and January. Her prints make a wonderful gift and there are quite a few to choose from. Come by and enjoy her beautiful botanical water colors and perhaps even run into Iris helping in the gardens!You can chat with her at a reception on Friday 7th December from 4-5pm.
Holiday Dinners
This year, Christmas Eve and Day and New Year's Eve and Day fall on Monday and Tuesday, so we will be closed. We are planning dinner specials for Sunday, December 23rd and Sunday, December 30th.