Craft-Brewed Innovation
At Ghostfish Brewing Company, they're reinventing beer from the ground up. Nourish is pleased to offer some of their outstanding, innovative craft beers. Check out their full line-up here or stop by our cozy lounge or sunny patio for happy hour, Wednesday-Sunday 2:30-5:00 pm.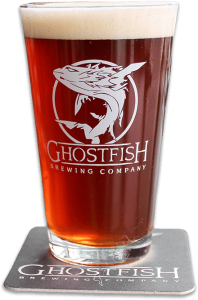 Ghostfish Brewing Company strives to develop a sense of community by fostering an environment that encourages a sense of teamwork and a place of belonging. They seek to be innovative by pushing the boundaries of craft beer, leading the way to be pioneers in the continuous development and improvement of gluten-free beers for all beer drinkers. Unusual grains, legendary taste. They promote creativity by providing an environment that encourages individual contribution, artful aesthetics, and allows individuals to challenge the norms. They support environmental stewardship by managing their business and their processes in an environmentally sustainable way.
It all starts with their use of unusual grains: millet, buckwheat, and brown rice. All malts are produced in small batches in dedicated gluten-free facilities. From there, they apply true PNW craft spirit, using choice Northwest-grown hops and other local ingredients to create a diverse portfolio of boundary-pushing craft beers.
In addition to being a great place to enjoy amazing gluten-free beers, their taproom is also a full restaurant with a dedicated gluten-free kitchen! They are dog- and family-friendly!
Ghostfish Brewing Company
2942 1st Ave S, Seattle, WA 98134