"Step Forward and Be the Harbinger of Your Own Dreams." – Sara Gagnon, Owner/Vintner
Harbinger Winery is an artisan winery focused on making premium, ultra-drinkable wines from Washington State.

At Harbinger Winery, their mission is to craft incredibly drinkable Washington State wines that justly represent the varietal and land from which they were grown. With a focus on "out of the ordinary" varietals, as well as traditional favorites, they strive to keep your cellar varied, your palate delighted and your state of mind pleasantly surprised.
Also known as "Little Alaska," the Olympic Peninsula is home to tall trees, amazingly rainy days followed by starry nights, and a wild breed of folk that are passionate about the Northwest. Harbinger is quite literally the most northwestern winery in the continental united states.
Harbinger Winery customers are considered friends and neighbors, and their happiness and satisfaction with Harbinger wines is taken seriously.  The consumption of food and wine a fun is an earnest mission in life; to be thoroughly explored and shared with others. Whether you are Mister Merlot  or a Sister of Syrah, your libation inclination is their business and they are passionate about matching you with the right wines.
But don't just take our word for it; stop by the Nourish lounge and try some Harbinger wine today!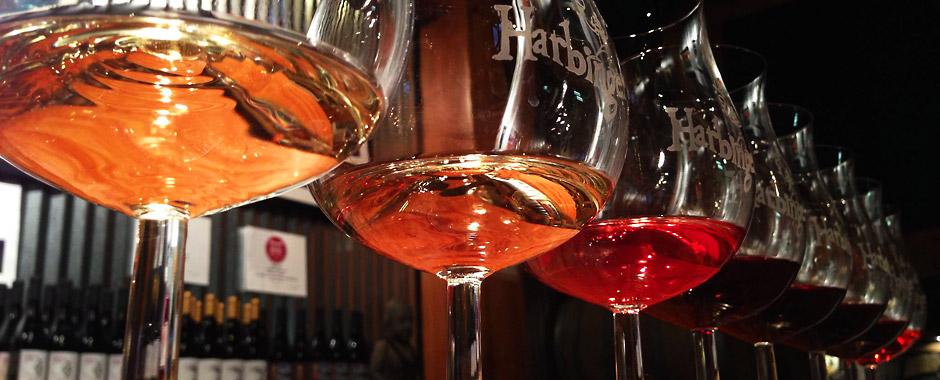 Harbinger Winery Tasting Room
Located in an ex-logging truck shop, now converted into a winery, you will find yourself surround by barrels, rich woods and textiles, galvanized metal siding, and big rough wooden beams. The tasting room is nestled in the middle of the barrel room, which gives folks a taste of the behind-the-scenes activities that truly define the soul of Harbinger.
Harbinger Winery
2358 HWY 101 WEST
Port Angeles, WA 98363
360-452-4262