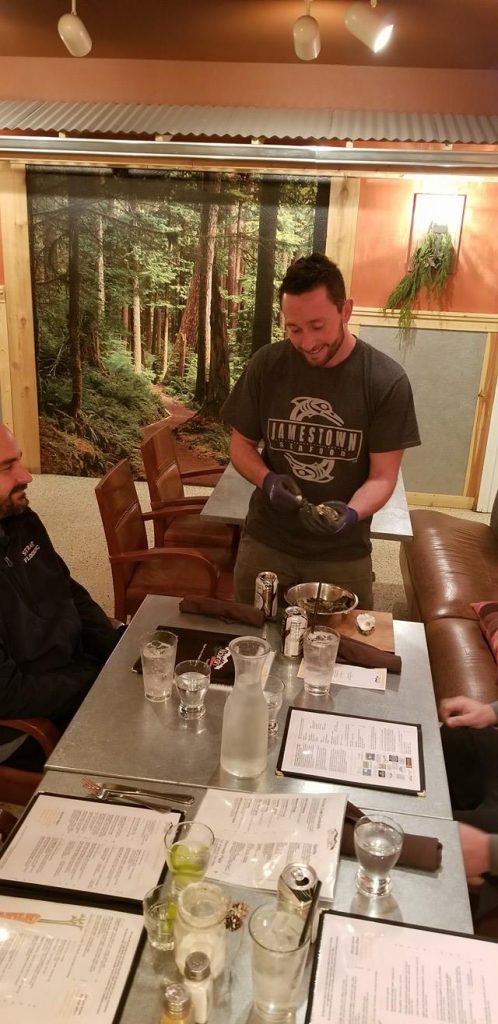 On December 15th, we served oysters fresh from Sequim Bay as part of our Shuckin' & Shootin' Oyster Friday series. Ralph from Jamestown Seafood was on hand to help with shucking and share info on their oyster growing process. Jamestown Seafood, a collaborative effort with the Jamestown S'Klallam tribe, is exciting chefs and seafood enthusiasts alike with their distinctive and delicious line of oysters – and we love them too.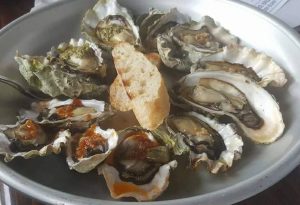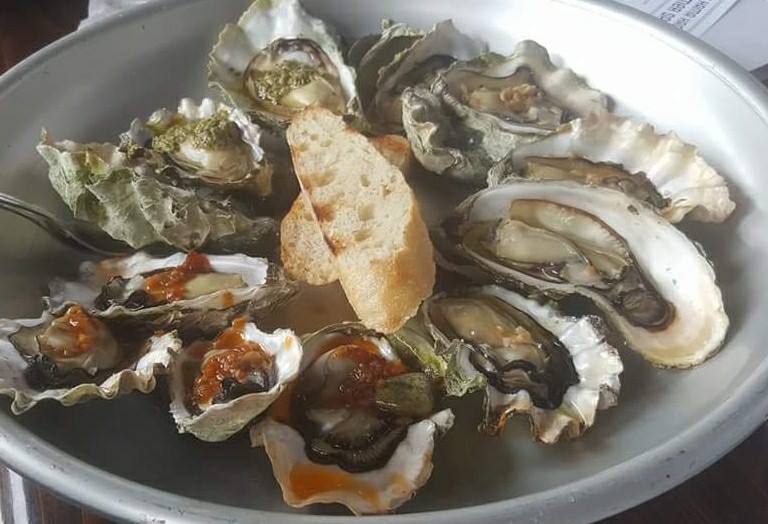 If you weren't able to make it, don't worry, we'll be serving fresh oysters every Friday! Stay tuned to our Facebook and Instagram!
Jamestown Seafood raises and harvests their Sequim Bay oysters in the immaculate waters along the Strait of Juan de Fuca at the entrance to the Puget Sound. Operating from Jamestown S'Klallam tribal lands, with a commitment to conservation and sustainability, the company produces some of the most prized and highly sought after shellfish in the country.
Oyster production begins at the company-owned hatchery, embracing scientifically regulated and meticulously managed spawning and seed grow out procedures. Maintaining a watchful eye on their oyster beds throughout the maturation process, Jamestown Seafood enjoys harvests that are commercially viable, sustainable, consistent, and abundant. They have established productive fisheries for both Pacific Oysters and Geoduck Clams along the Strait of Juan de Fuca in Sequim Bay, and developed a world-class hatchery in Quilcene Bay.
Recognizing the delicate balance that must be maintained between a thriving watershed and an economically viable commercial fishery, Jamestown Seafood works in cooperation with local, state and federal agencies, and moving beyond shellfish that are commercially sustainable today, the company is exploring ways to restore once prized, and now depleted, indigenous species.
Currently there are three varieties of oyster on the menu at Jamestown Seafood. They are all a local Pacific Oyster, but farmed using two different methods.
Sequim Bay Jades & Sequim Bay Sapphires – Beach Farmed which means the oysters are grown directly on the sandy floor of Sequim Bay. They are silky smooth, displaying tantalizing mineral notes coupled with unmistakable brine, subtle sweetness and a fresh cucumber finish. They are clean, bright and provoke fond memories of the beach.
Sequim Bay Blue Opals – Tumble farmed, where they are allowed to tumble with the tides in large nets. These little gems have a distinctive, bowl shaped shell. They are plump, juicy and succulent, display a clean ocean flavor accompanied by subtle sweetness and buttery texture. On the finish, there are hints of melon that make this oyster truly memorable and thoroughly enjoyable.