What's Growing in 2018
We have a lot to accomplish this year and with your continued support, we feel that our goals will soon become a reality here at Nourish! We plan on expanding our gardens with greenhouses in order to get an early start on our growing season. In February, we will plant a small orchard of fruit trees and berry bushes! So stop on by and check our progress
Do you know about Nourish Dine @ Home Dinners?
Every week Nourish presents you with a new menu of 7 seasonal meals, 2 desserts, 2 soups and a variety of pantry items. All dishes are chef prepared and ready for you to warm and eat at home. Choose from meat, fish and vegetarian dishes, all deli-ciously crafted to delight your senses; garnished as we do in the restaurant. We prepare these meals with our same ethos of choosing local, using organic, gluten-free ingredients and cooking everything from scratch.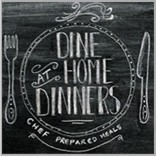 Our program is simple!
New menu is ready FRIDAY
Deadline for your order SUNDAY
Pick up your order FRIDAY
Menus can be emailed to you. They are also available on our website and at Nourish restaurant. Place your order by phone, by email or at Nourish. Meals are boxed and labeled for you to pickup and refrigerate. Simply heat the meals and enjoy! Receive 10% off your first order. Purchase an insulated Nourish food bag and get one for free!
New Take Home Baking Mixes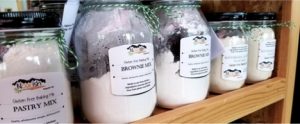 If you are hesitant on attempting gluten free baking, let us do the hard part for you!
You can purchase our ready-to-go pancake, pastry and chocolate brownie mixes that include detailed instructions and saves you from buying umpteen different flours.
Food & Music This Month
"Another fresh new year is here..another year to live! To banish worry, doubt and fear, to love and laugh and give! This bright new year is given me to live each day with zest..to daily grow and try to be, my highest and my best! I have the opportunity once more to right some wrongs, to pray for peace, to plant a tree and sing more joyful songs!"
—William Arthur Ward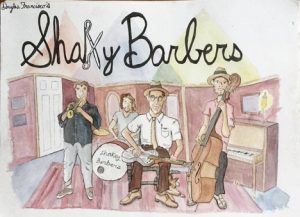 We have a few new names and sounds to help us start the new year.
Friday the 12th at 6PM. Douglas Francisco and the Shaky Barbers bring original music for the lap steel guitar inspired by Hawaiian ragtime, Klezmer, and pre-WWII blues.
The World is your Oyster
This proverb first appears in Shakespeare's play 'The Merry Wives of Windsor' (1600).'Falstaff: I will not lend thee a penny. Pistol: Why, then, the world's mine oyster, Which I with sword will open."



Every Friday, from 5-8pm, we do just that, except we are using shucking knives! On the 26th, we will welcome Piper and Robert from Propolis Brewing to pair their unique beers with some of our locally harvested oysters.


We will be closed Monday, Jan. 15th to Jan. 24th for remodeling, reopening Wednesday, Jan. 24th.