Johnston Farms is centrally located between Sequim and Port Angeles, WA, against the gorgeous backdrop of the Olympic Mountains. Kelly and Christie Johnston have been following organic farming methods on the farm since 2000, growing fresh fruits and vegetables ready for your table. Kelly has developed methods to extend the growing season of the Olympic Peninsula with greenhouses and natural mulches, making it possible to provide a wide variety of produce, including melons and peppers. They welcome visitors to the farm or you can see them at the Johnston Farm stand at the local farmers market.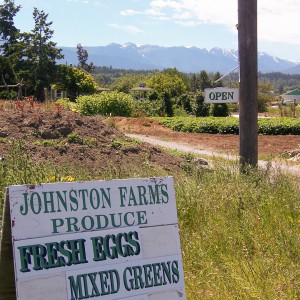 The farm is on seven acres with orchards, gardens and three green houses. They start seedlings early in the season, transplant to raised beds, grow hot crops and also late season growing. Kelly and Christie use materials on the farm for an aggressive composting program, making use of chicken manure and cast off vegetation. Crops are rotated annually, and each year a different area lays fallow to rest, covered in mulch to eliminate weeds in large areas. They water from Agnew Creek which runs through the property fed off the Olympic Mountains, which make a gorgeous backdrop to their farm.
From apples to zucchinis, Johnston Farms grows a broad selection of fruits and vegetables. They specialize in many unique hard-to-grow items in this area, including varieties of peppers, eggplant, melons and heirloom tomatoes. Their main crops are potatoes, lettuces, garlic, onions, root vegetables, berries, apples, pears, plums, flowers and much more.
Johnston Farms serves retail and wholesale customers from Port Angeles to Port Townsend, providing the best farm-fresh produce available.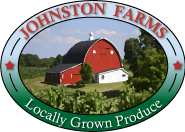 Johnston Farms
1046 Heuhslein Road
Port Angeles, WA 98362
Monday – Saturday 8am-5pm
SaveSave