In the Nourish Garden with Jahn
Lots of lettuce, greens, herbs and edible flowers are being harvested from our garden. We can probably say that we are serving the freshest salads in town! And we too have the purple haze…with Spanish lavender and culinary lavender happily growing in our garden.
Here are a few lesser known Lavender factoids…Lavender is high in beta-caryophyllene. This aromatic compound, or terpene, is a cannabimimetic, it mimics the effects of some cannabinoids found in cannabis. How about the Egyptians who used lavender in their mummification process? Lavender takes its name from the Latin root, lavare, to wash and Cleopatra was supposedly wearing the scent to seduce Marc Anthony.
From the Nourish Kitchen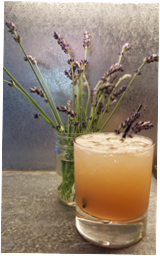 Taste of Lavender: Visit Nourish through out the month of July and you will find lavender specials on the menu. You may see Herbs de Provence with lamb, lavender beurre blanc with Halibut, lavender with summer berries, cheesecakes and cookies. We will serve lavender lemonade and a lovely selection of lavender teas from Sequim Spice and Tea.
From our Lounge: Since lavender is a local specialty, we serve our Lavender Princess cocktail throughout the year. We make it with Hardware Distillery (Hoosdsport) raspberry bees knees, Peabody Jones vodka (Seattle), Scrappy's lavender bitters, simple syrup, topped off with Washington bubbly!
Mention this newsletter & receive $1 off Lavender Princess 
Nourish Happenings!
July is here and so is the sun! We have set up the patio's for a dining experience among our beautiful gardens!
July 1st: To start the summer season we will be welcoming the smooth Jazz of Blue Skyz, July 1st, 6pm.

July 4th: We will be closed to celebrate the holiday of our Independence, as well as our own 4th year anniversary—THANKYOU!
July 20th, Third Thursday Tea: This is the day before Sequim's lavender festival weekend so this month's theme will be the beautiful Lavandula Angustifolia, as well as many other varietals our town is known for growing! You can find brochures at Nourish that provide a detailed map of the lavender farms in our area.
July 22nd: Come listen to original music from Howly Slim and Sandy Summers starting at 6pm.


Olympic Cellars Summer Music Series: We are excited to partner with Olympic Cellars to be their food vendor for each of their weekend concerts this summer. 5% of food sales will go to the cause Lisa and Olympic are supporting each week. You can pick up your concert schedule at Nourish and online at www.OlympicCellars.com. The first concert is Saturday July 22nd at 7pm! Look for the menus on our website soon!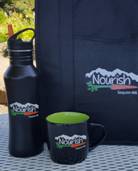 Nourish Swag: You've been asking us for Nourish T-shirts and inspired us to start a little line of Nourish products. These are items that fit our ethos of reducing waste "while looking good". Stainless steel water bottles, so cool you will want to use them again and again. Insulated shopping bags, great for take out or a trip to the farmers market. Really cute coffee mugs in a size that won't caffeinate you for three days! American Apparel T-shirts are on their way, as well as caps. We will have gluten-free baking mixes, house sauces and vinaigrettes available for order.