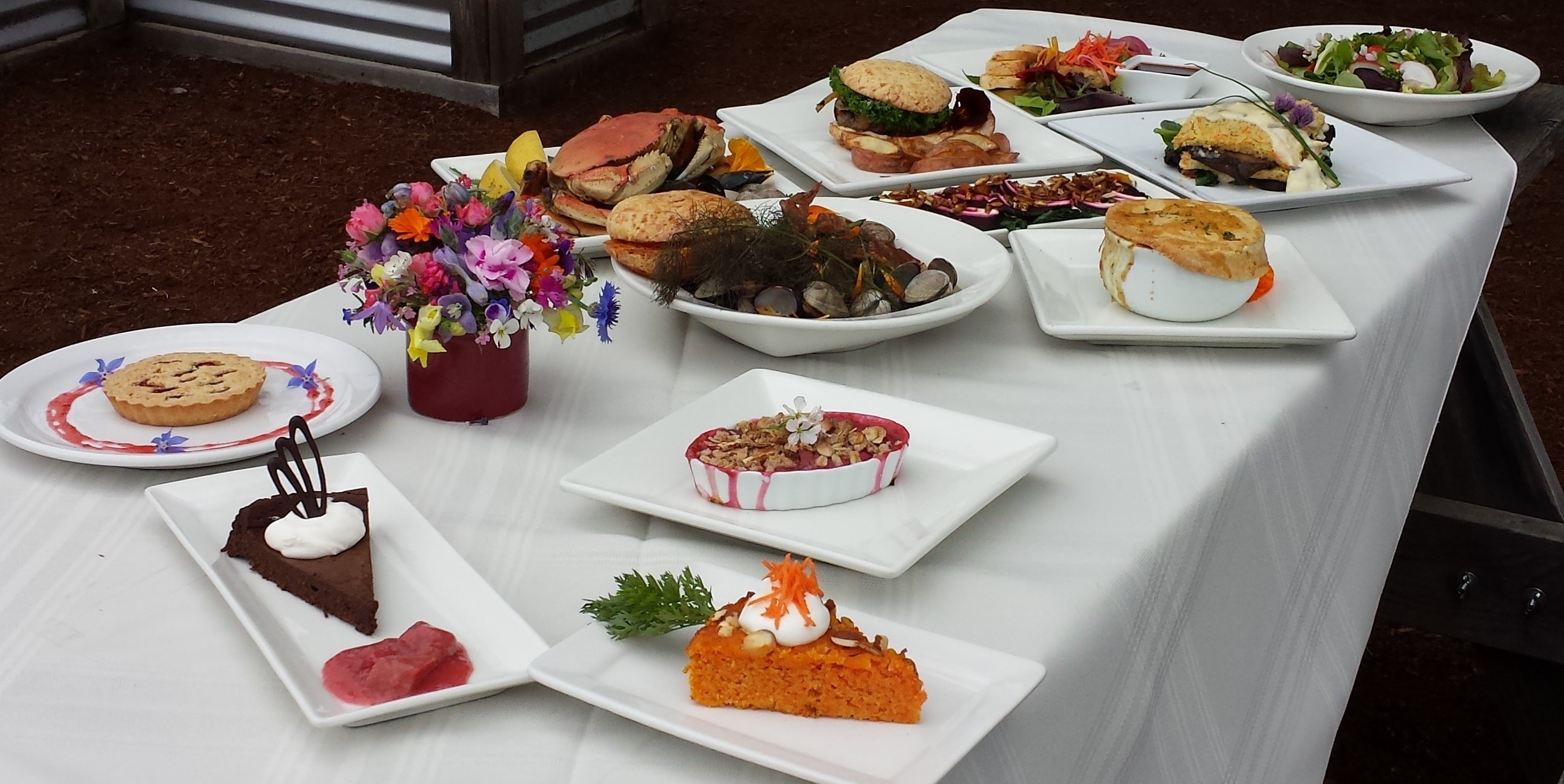 At Nourish, delicious flavors and beautiful plates are balanced with nutritional and environmental awareness, served in an inviting atmosphere to create an intentional dining experience. We grow our own produce as well as purchasing directly from local farmers, fishermen, foragers, artisans and ranchers to source the best ingredients possible with which we create our menus. We make everything in our dedicated gluten-free kitchen and our menus change frequently, with the seasons.
PRICING AND MENU OFFERINGS MAY DIFFER FROM WHAT IS SHOWN HERE
Serving real food made the way nature intended with added love from our farm kitchen
Our ingredients are seasonal, mostly organic, local and non GMO
We choose meats and poultry that are kindly raised and seafood that is sustainably harvested
THURSDAY, FRIDAY, SATURDAY
11:30 am – 2:30 pm & 4:30 pm – 7:00 pm
CALL 360.797.1480 to place your order
DINE IN OR TAKE OUT
All available Take-out or Dine on Patio for lunch 11:30 to 2:30 and dinner 4:30 to 7:30
Saturday 11/28 Specials
LUNCH
Butternut Squash Bisque (V)
Pork Stuffed Cabbage Roll– with Tomato Vegetable Coulee and Choice of Salad or Potatoes $17
Turkey Salad– with turkey breast, mixed greens, warm potatoes, roasted hazelnuts, chevre, and cranberry orange vinaigrette $17
Veg of the day: Broccolini
Orange Panna Cotta with Cranberry Compote $5
DINNER
Butternut Squash Bisque (V)
Spicy Turkey Wings & drumsticks, special hot sauce, blue cheese dressing, celery $12 Only 6 left Order hot to eat or chilled for tomorrow
Walnut lentil stuffed carnival squash with butternut and sunchoke coulis, cashew cream, pepitos and cranberry orange relish, broccolini $22
Flat Iron topped with garlic sauteed mushrooms & smokey blue cheese with mashed potato and broccolini $32
Veg of the day: Broccolini with garlic butter
Chocolate Pumpkin Torte with Candied Ginger $8
FALL 2020 MAIN MENU
House Made Breads (All Gluten Free)
Brazilian cheese bread 6 Garlic bread 7 Seeded socca crepe (Vegan DF) 5
Bowl Carrot Ginger Sweet Potato Soup Topped with carrot ginger chili pickle 9
Garden Salad (Vegan/DF) Small or Large 8/13
Seasonal greens & vegetables, toasted hemp hearts
House Dressings: Herb lemon, Carrot ginger, Creamy herb dressing
Wine Poached Pear Salad 18 Smokey blue cheese, lemon pepper walnuts, salad greens pear & bay leaf vinaigrette spiced red wine reduction
Roasted Veggie & Quinoa Bowl 19 Seasonal greens, carrots, radish, celery, pickled beets, pickled onions, pumpkin cashew cream & carrot ginger vinaigrette, seeded socca bread & feta Cheese (vegan or dairy free ask for no Feta)
Falafel Veggie Platter 18 Almond garbanzo quinoa patties, pumpkin cashew cream, mushroom escabeche, pickled vegetables, apricot pumpkin chutney, seeded socca bread
Dungeness Crab Dip 22 Dungeness crab, sweet red peppers, mushrooms, leek cream, parmesan cheese, dijon, hot sauce & breadcrumbs with pickled peppers and cheese bread crostini
Seared Mac N Cheese 17 pasta in Mornay sauce
Add Dungeness crab with carrot ginger pickle 29
Add Bacon Jam, caramelized onion, garlic 20
Add Mushroom escabeche, red pepper garlic, onion paprika 20
Dungeness Crab Melt 26 Red pepper, spinach, mushrooms, leek cream, cheddar, arugula, open faced cheese bun
Chicken Pot Pie 20
Roast organic chicken, carrots, onions, potatoes, celery, mushrooms in cream chicken sauce under pastry top served with choice of side
Spiced Lamb Burger 20 Seared with Ras el Hanout warm spices, feta lemon cream, apricot pumpkin chutney, greens, served with choice potatoes, soup or salad
Following Dinner Plates AVAILABLE ONLY 4:30 pm to 7:30 pm
Coconut Cream Curry Bowl 23 Seasonal roasted vegetables, cabbage, red peppers mushrooms, rice noodles, ginger carrot pickle, coconut cream sauce (cilantro, ginger, jalapeños, lime, spinach, maple) Add a Protein?
Seared Pacific NW Halibut 30 Risotto of quinoa & roasted fall vegetable coulis, apple, pumpkin cashew cream, orange beet gastrique, seasonal vegetable
DESSERTS
Chocolate Cabernet torte 9
Pistachio Olive Oil Cake 8
Almond carrot cake (DF)8
Seasonal fruit crisp (Vegan DF) 8
>Consuming raw or under cooked proteins may increase your risk of food borne illness
Nourish BAKERY & PANTRY
Nourish Bakery & Pantry—all gluten free always
now open for you to take-home

We love the alchemy of turning great ingredients into delicious things to eat. We want to share our amazing bakery and pantry with you Please allow 24 hours notice for orders
Almond Carrot Cake whole 35
Chocolate Cabernet Torte whole 45
Coconut Dream Cake (dairy free) 35
Crepes (6) 12
Cheese buns (6) 15
Seeded Socca Flat Bread 6 pcs (vegan/dairy free) 8
Rosemary Pecan bars (vegan/dairy free) 21
Pastry (butter) 1lb ready to roll 18
Pastry (our vegan butter) 1lb ready to roll 22
Spiced pistachio cookies 12 frozen ready to bake 18
Gluten Free Baking Mixes
Pastry mix 10
Molasses Spice Cookie mix 12
Waffle mix 12
Organic Dark Chocolate brownie mix 18
Nourish Pantry
All items require refrigeration and as they have no preservatives they should be used in 5 to 7 days
Dressing & Sauces, Soups and more
Pear & Bay leaf vinaigrette (8 oz bottle) 8
Carrot Ginger vinaigrette (8 oz bottle) 8
Creamy Herb (8 oz tub) 10
Leek cream sauce (8 oz tub) 12
Pumpkin cashew cream (vegan) 8oz 16
Sweet Chili Sauce (8 oz bottle) 10
Carrot Ginger soup 12 oz 8
Organic chicken stock 16 oz $10
Organic fish stock 16 oz $10
Condiments
Marinated mushrooms (8 oz tub) 8
Pickled onion (8 oz tub) 8
Pickled Beets (8oz tub) 8
Carrot & ginger pickled relish (4 oz tub) 4
Other
Garbanzo bean curd tofu (no soy) 6 oz 10
Roasted Mushroom Hummus (8 oz tub) 8
| | |
| --- | --- |
| Seasonal Shrub Concentrate 8oz (64 oz diluted) 12 | |
COCKTAIL Kits To-Go
Cocktails-To-Go can only be sold with a meal
Present your ID when picking up your order
transport in your trunk – out of drivers reach
Thank You
Nourish Craft Cocktail Kits
Nourish applies the same passion to the bar libations as we do to the food, prioritizing local, fresh and seasonal.
The bar focuses on Northwest spirits with both modern and classic cocktails crafted for your enjoyment, featuring our house-made syrups, & cordials.
As we can't serve you in our lounge we have prepared kits for you to enjoy a craft cocktail at home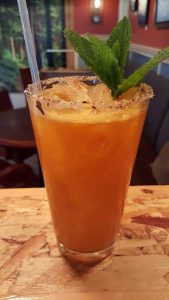 Farm Margarita Kit $45
Kit serves 4 & contains: 12 oz tequila, Orange liqueur & cane syrup, 4 oz lime, 8 oz carrot juice, chili salt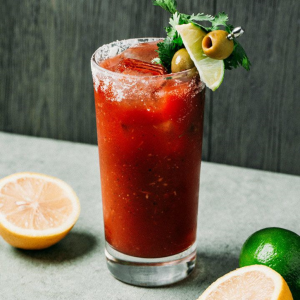 Bloody Mary Kit $45
Kit serves 4 & contains: 32 oz Mary Mix & 8oz Vodka
Rose Aperol Mimosa $35
Kit serves 6 & contains: 1 bottle Sparkling wine, 1 bottle Dry soda & liqueur mix.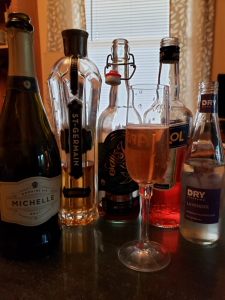 NOURISH WINE LIST - ALL AVAILABLE TO TAKE-OUT
Sparkling
Gruet, Blanc de Blancs, (WA chardonnay) New Mexico 25
Rosé
Harbinger Winery, Rhone Rosé 2017, Port Angeles, WA 25
Browne Family Vineyards, Granache Rosé , Walla Walla, WA 34
White
Harbinger, Chardonnay 2016, Port Angeles, WA 30
Desert Wind Chardonnay 2016, Wahluke Slope, WA 22
Torii Mor Winery, Chardonnay 2014, Willamette Valley, OR 36
Gran Moraine, Chardonnay 2015, Yamhill/Carlton, OR 54
Ste Michelle, Pinot Blanc Ltd Release 2016 Woodinville WA 25
Wind Rose, Sauvignon Blanc 2016 (The Keeper), Sequim, WA 28
Mercer Family Vineyards, Sauv Blanc 2016, Horse Heaven Hills, WA 29
Chateau Ste. Michelle, Chenin Blanc 2016, Yakima Valley, WA 29
Erath Pinot Gris 2016, Wilamette Valley, OR 22
Harbinger Pinot Gris 2017, Port Angeles, WA 29
Lange, Pinot Gris Reserve 2017, Willamette Valley, OR 42
Wind Rose Winery Pinot Grigio 2017, Sequim, WA 25
Nine Hats Riesling 2016, Columbia Valley, WA 22
Harbinger, Riesling 2016, Port Angeles, WA 22
Pacific Rim, Riesling Solstice Vineyard 2015,Yakima Valley, WA 33
Harbinger Winery, La Petite Fleur, PA WA 25
Harbinger, Muscat, (off dry) 2018, Port Angeles, WA 27
Harbinger, Viognier 2015, Port Angeles, WA 29
Harbinger Albariño 2017, Port Angeles, WA 29
Reds
Northstar Winery, Merlot 2012, Walla Walla, WA 44
Harbinger, Merlot 2012, Port Angeles, WA 40
Spring Valley Vineyard, Merlot Mule Skinner 2014, Walla Walla, WA 66
Benton Lane Estate Pinot Noir 2016 Willamette Valley, OR 25
Purple Hands, Pinot Noir Freedom Hills 2017, Willamette Valley, OR 86
Wind Rose Dolcetto 2015, Sequim WA 36
Mercer Family Vineyard, Cab Sauvignon 2017, Horse Heaven Hills, WA 27
Van Duzer Vineyards, Cab. Sauvignon Sorcery 2012, Dallas, OR 39
Underground Wine Project, Cab. Sauvignon 2015, Red Mountain, WA 47
Browne Family Vineyards, Cabernet Franc 2015, Yakima Valley, WA 56
Spring Valley Vineyard, Cabernet Franc 2012, Walla Walla, WA 79
Harbinger Winery Dynamo Red 2016 Port Angeles, WA 25
Ste Michelle red Blend Limited Release 2016 Woodinville, WA 22
Mercer Family Vineyard, Edge Of Heaven 2016, (Syrah/Malbec/Merlot )
Horse Heaven Hills Slope, WA 30
Harbinger, Evolution 2014, PA, WA (Columbia Valley: Cab franc, Merlot, Cab Sauv) 43
Harbinger, El Jefé 2013, Port Angeles, WA 41
Pepper Bridge Trine 2014, Walla Walla, WA 82
Harbinger Bolero 2010, Tempranillo/Ganache, Port Angeles, WA 41
Harbinger, Primitivo 2013, Port Angeles, WA 43
Wind Rose Carménere 2016, Sequim, WA 44
Seven Falls Winery, Zinfandel 2013 Jones Vineyard, Wahluke Slope, WA 49
Gifford Hirlinger Winery, Malbec 2016, Walla Walla, WA 53
Tenet Syrah, The Pundit 2012, Woodinville, WA 30
Penner-Ash Wine Cellars, Syrah 2014, Newberg, Oregon 54
KIDS $12 TAKE OUT MENU - Includes dessert
Petite Chicken Pot Pie
Organic chicken potato, vegetables, creamy chicken sauce under pastry crust
Fish & Potatoes
Breaded fish with creamy herb dip, oven fries or vegetable
Chicken strips
Breaded organic chicken tenders with creamy herb dip, oven fries or vegetable
Mac 'n Cheese
Burger
Mayo, greens, cheese bun
oven fries or veg
Add cheddar + 2
Dessert Choices (included)
Cookie
Fruit Crisp
BEVERAGES
SPECIALTY TEAS
Sequim Spice and Tea creates some amazing tea blends to soothe your soul and refresh your taste buds. Pot for one 5 Large Pot to share 8 Black Organic: English Breakfast | Black Lavender | Ceylon | Darjeeling Black: Lapsang Souchong | Fig Formosa | Rosy Earl Gray | Chai Masal | Flower Fairy White: Variety varies Green: Bancha (Organic) Green/Black Blend: Oolong Herbal Teas (caffeine free): Cranberry Citrus Lemon Ginger | Mint Medley (org) | Hibiscus Delight (org) | Hoh Rain Forest (org) Iced Tea (includes refill) 4
COFFEE
Serving Rainshadow Coffee, dark roast for drip coffee and Roaster's Blend for our espresso drinks Drip coffee (includes refills) 4 French Press 8
NOURISH ITALIAN SODAS
We make our own fruit and herbal syrups used create Italian-style sodas: syrup, carbonated water and a touch of cream 5 Ask about today's flavors
NOURISH SHRUB SODAS
Our own fruit and herbal shrubs… 5 Ask about our seasonal flavors What's a shrub? It's a refreshing cordial we make with sweet and tangy infusions of fruit, herbs, vinegars and sugars. These drinks have rich history from Arabia, England and more recently America. Sometimes served as an alcoholic beverage and sometimes served soft, delicious either way.
BOTTLED DRINKS
Selected because they taste great and have ingredients we can pronounce Brew Dr. Kombucha 6 Virgil's root beer, cola 4 Reed Star ginger beer 4 Dry Soda vanilla, juniper 4
Our Promise to You
We care about food, especially the food we serve you. We are concerned with where and how it was grown or raised. We want you to feel safe eating food at Nourish. The food we prepare is gluten free, mostly local, organic and minimally processed. Our kitchen is dedicated gluten free. We avoid products that have been genetically modified. All of our food is made from scratch, in our kitchen—even the ketchup! We aim to offer a selection of Vegetarian, Vegan, Meat and Seafood meals daily so you can each enjoy the food you want to eat.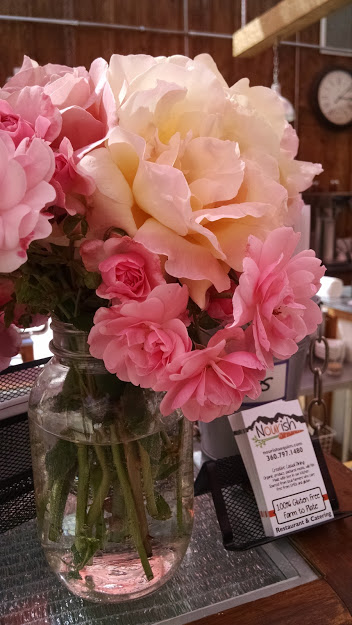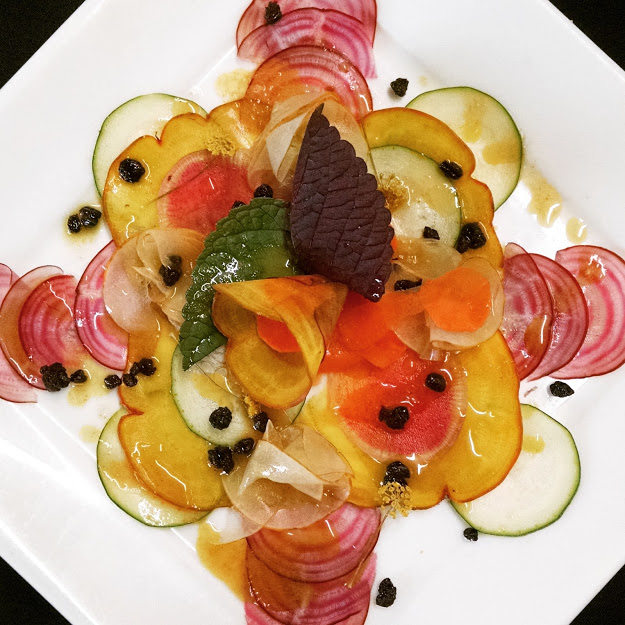 ASPCA-EatREAL
We are committed to sourcing all our chicken and lamb from farms that achieve an animal welfare certification recognized by EatREAL and the ASPCA® Shop With Your Heart program by 2019. Furthermore, we will continue to support improved conditions for farm animals. To that end, we will continue to source all our chicken from Global Animal Partnership (GAP) certified farms as GAP evolves its program standards and make sure our birds are processed using CAS (which is widely hailed as more humane) by 2024.
THE GIFT OF NOURISHMENT
We offer gift certificates for any of our services. These can be purchased by calling 360 797 1480 or stopping by. We suggest you call during open hours and for faster service avoid lunch and dinner times. We will mail certificates to you or to the recipient.