Nourish Growing, with Jahn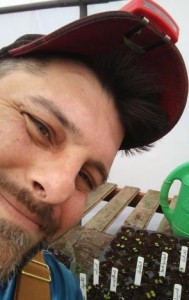 Take a stroll on the new paths and see what's coming to life in our garden. We gave the soil a lift and created shapely new raised beds. The contours and bends of the walkways around the beds stimulate tranquility and creativity. Aside from its beauty, raising the beds improves moisture retention and creates a happy environment for beneficial microbes, worms, and fungi; a balance of form and function.
My name is Jahn, I'm the new gardener here at Nourish. While you are walking around the garden, come say hi to me. I have a passion for biodynamics, permaculture, and sustainability. Be sure to follow us on Facebook– as we share videos and tips from the garden and kitchen.
What's Cooking in Nourish Kitchen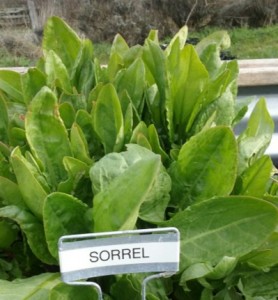 Sorrel is sprouting up fast with all the rain and the longer days. Not familiar with this plant? It is a little like spinach with a sour tangy lemony flavor (from oxalic acid). It is eaten in many parts of the world and is full of important vitamins and minerals.
When Jahn brings us a big bundle of sorrel, what are we to do? We make pesto, we chop it into our salads, and we make SOUP!
Happenings in April
Easter Sunday Meal, April 16th
Join us for Easter, leave the cooking to us! Enjoy a delicious, relaxing Easter meal with family and friends; we have a special menu and live music. Call today and reserve your table: 360-797-1480. Check out our Easter menu, it's divine!
At noon,  music with Deka Piano Trio (piano, violin, cello)
At 2:30pm, music with Sara Shea and Al Harris
Third Thursday High Tea, April 20th
High Tea at 3:00pm, join us as we pull out the china and linens, bake up some goodies and spend an hour or two with friends enjoying tea. This month, find out how the British make a "proper cup of tea."
Blue Skyz Jazz, April 28th
Make your dinner reservations now, as Blue Skyz are a delight to listen to.
Nourish Dine at Home Dinners
Every week we post a new menu of 7 meals, 2 soups and 2 desserts, along with various pantry items. You order as many items as you want and enjoy chef prepared meals in the comfort of your home.
Dine at Home meals make a great gift for a busy new mom or a welcome gift to new home owners. Take the stress out of preparing home cooked meals. Try them out and see if you enjoy having a your own personal chef! 10% discount on your first weeks order.
Martha Stewart's Sorrel Soup
Following is a recipe similar to the soup we made in the restaurant. This recipe is from Martha Stewart, based on classic French Sorrel Soup. At Nourish we add spinach, along with sorrel to help keep the bright green color, as heat turns the delicate sorrel leaves brown. We also thickened our soup with a little roux in place of the eggs.
Ingredients
3 tablespoons unsalted butter, plus 1 to 1 1/2 tablespoons, softened, for serving
1/3 cup minced onion
3 cups packed sorrel leaves, washed, dried, and cut into thin strips
Coarse salt and freshly ground pepper
2 tablespoons all-purpose flour
6 cups Basic Chicken Stock, boiling
2 large egg yolks
3/4 cup heavy cream
Preparation
In a large saucepan, melt 3 tablespoons butter over medium heat. Add onion and cook, without browning, until sof-tened, 6 to 8 minutes. Add sorrel and season with 1/2 teaspoon salt. Stir over low heat for about 5 minutes.
Sprinkle in flour and cook, stirring, over moderate heat for 5 minutes. Stir in boiling stock. Simmer for 10 minutes.
Season with salt and pepper.
In a small bowl, beat yolks lightly with cream. Whisking constantly, slowly pour 1 cup hot stock mixture into egg mix-ture, then return back to saucepan. Do not let soup boil after egg yolks have been added or yolks will curdle.
Stir in softened butter and serve hot. If serving the soup chilled, do not add the softened butter.