In The Garden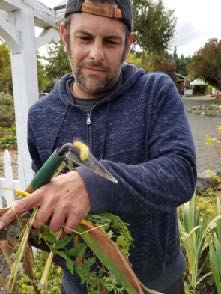 WATCH FOR FALLING PEARS! It's the time of year when our beautiful Perry pear tree begins to drop it's fruit, right onto our patio! Each year, a crew member from one of our local cideries comes to harvest our pears and the rest, well, we try our hardest to keep them from squishing under your feet and mix them into our compost.
We are STILL harvesting a few tomatoes and hot peppers from our greenhouse! Collards, green onions, radishes and herbs are still in the garden. Baby spinach growing in the greenhouse will be planted in the garden very soon between the raindrops!
Tis the season!
Thanksgiving Dinner
The time has come to make your reservations for the Holiday season! We are offering three seatings for Thanksgiving this year. 12:00, 2:30, and 5:00pm. Check out the menu here.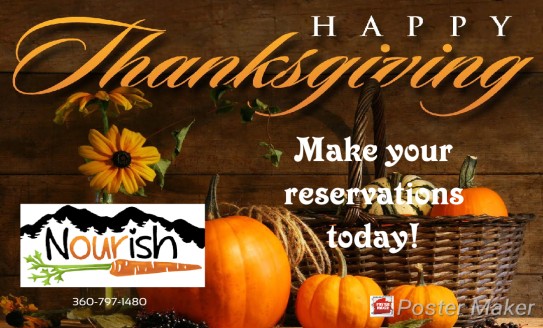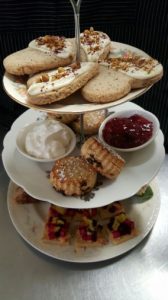 Holiday Tea
We will be serving a Holiday Afternoon Tea on December 6th at 3:00pm. This is a reservation-only event.
Holiday Parties
In the blink of an eye, Christmas will arrive! We are now taking bookings for company parties!
Open Mic
Wednesday nights starting at 6:30. Open mic is now held in the Bell Room located upstairs of the restaurant.
Thursday Date Night
Have a night out with friends or that special someone. Enjoy a 3-course menu for $25.
Oysters and Champagne
Friday night oysters and champagne. We will be serving local bivalves raw or baked!
Who's Nourish?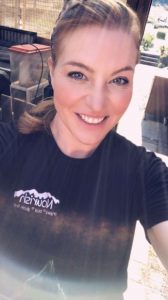 Meet Jessica! She moved to Sequim from Arkansas, her wife Dez's hometown. Jessica is the only member of the Nourish team who actually lives with celiac disease. After decades of battling sickness, she was finally diagnosed in 2014. Working in the food service industry had always been a challenge for Jessica, frequently feeling unwell or even unable to work. At Nourish she is able to feel safe, free from the worry of exposure to gluten. She tells us this has changed her life immeasurably! A real life example that we are what we eat and food can be our medicine or, at times, our poison.
Business of the Month
Thank you to the Chamber of Commerce for awarding Nourish as Sequim's Business of the Month in recognition of being credited with the EAT REAL Platinum Certification! We were graded at many levels including dietary integrity of menu, options for portion sizes, ingredients, scratch cooking, food sourcing, proteins from humane producers, and wild sustainably harvested seafood.
We are educating ourselves and trying to constantly improve! It has been our goal from day one to serve our community delicious food that is GMO free, whole, mostly local and to reduce our impact on the environment. We are honored our efforts are being noticed!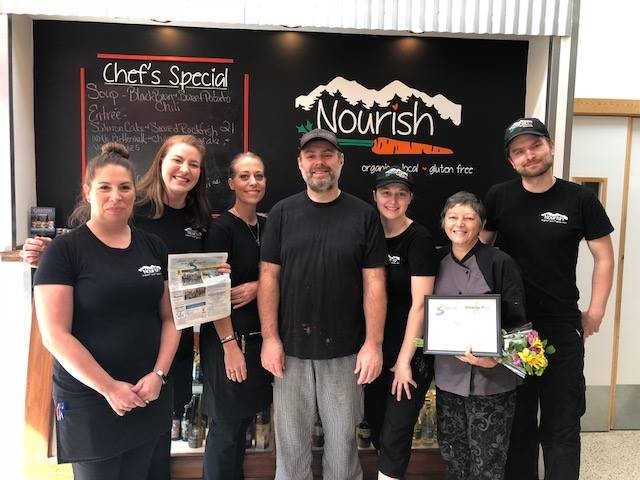 To receive for our monthly newsletter, please email us or signup online.