Well isn't this a chilly October – all the better for us to bring on our new seasonal menu.
We love this time of year as we are gathering the harvest from our garden and have a store of summer goodness to call on with pickles, chutney's and frozen berries. We are excited to bring you slow braised dishes and comfort food plates, as is evident on our new menu.
We thought you might find it interesting to hear a little about the thought process of reworking our menu each season, as it is a process. First, we look at what is available for the season – both in produce and proteins. For example, halibut season will soon close but salmon continues on for a while. All the bi-valves are back at peak condition as the water they live in is cooler. We bring you lamb as it is less harsh on the environment; it also is raised by famers committed to humane practices, the same with our pork supplier. We see what our garden is producing and what other local farms will continue to have – such as stored winter squashes and root vegetables.
We aim to offer an assortment of plates you can share with your dining companions, salads that satisfy as an appetizer course or as a complete, balanced entrée. We provide choices for all kinds of dietary requirements or preferences, so you will find vegan, dairy free, fish, meat, poultry and vegetable-based dishes. We also consider those of you that want to enjoy dining out with healthier choices where starches have less of a focus or can easily be replaced with more vegetables. The starches we offer are varied and usually have a higher protein balance to them, either naturally – such as quinoa – or added protein, such as dairy in the polenta.
We focus on flavor, balance and presentation for every dish.
Some customers comment about depth of flavor and how we achieve this. Depth of flavor comes from food preparation processes, time, and combinations of layers of balanced ingredients.
For example, when we  make the molé demi-glace that coats the plate under the flat iron steak (so you get a little with every bite) we have roasted beef bones with veggies and seasoning and then simmered them into a rich stock for about 36 hours, we then reduce the stock to a concentrate for another few hours. Meanwhile, we are making an Oaxaca style molé sauce (in place of a traditional brown sauce) of toasted chili peppers, sautéed vegetables and dark organic chocolate which takes another 4 hours of dicing, sautéing, simmering, puréeing. We then take shallots and red wine and reduce, add the demi (reduced stock), add the molé, and the sauce sits, ready for you to place your order. After your steak has been seared, the sauce hits the pan, gets finished with a little butter and voila… that is one sauce!
Starting with quality ingredients and putting a whole lot of time and love into them makes the food deeply delicious.
On the menu, you will find new fall dishes, for example we offer a  Pork Plate which is slow braised for about 12 hours in Finn River cider and veggies, plated with green onion polenta, a sauté of apple and cabbages with the jus from the pork and some of our apple shrub.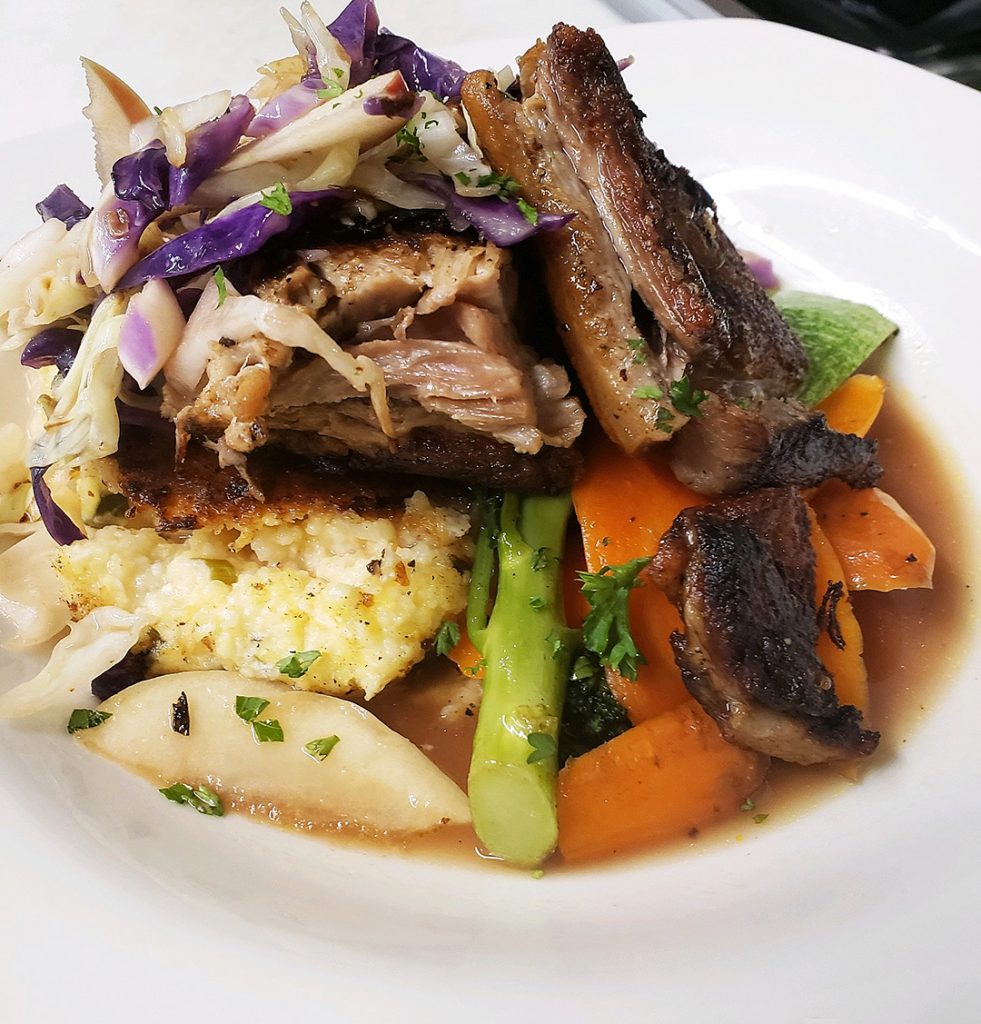 In our Plant Forward sections of the menu we have a new pasta dish that tastes very similar to a marinara sauce but has no tomato or peppers – so, no nightshade, no inflammation – for those of you who are watching these things. We complete this dish with sautéed mushrooms, kales, Kalamata olives, which are tossed with vegetable coulis and penne pasta – great as it is, or you can add your choice of protein.
These are just two items,  there is a whole menu of new dishes for you to try and some favorites such as chicken pot pie and smoked salmon leek cream pasta that we don't dare to take away!
There are some new seasonal cocktails too, warm up with a traditional Hot Toddy or try a Whiskey Scrumpy… and you'll just have to come in to see what this is!
Happy Fall, we look forward to seeing you soon.