What's Cooking in Nourish kitchen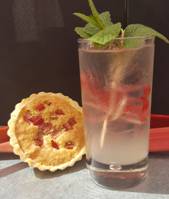 In the kitchen we're excited to have rhubarb to cook with! It's our first, fresh, almost fruity flavor of the year. In our fruit crisp, we have been adding rhubarb to apple, to use the last of the 2016 apple crop from Johnston Farm. Rhubarb is now our seasonal flavor in our dairy-free coconut tarts. We're making a rhubarb-leek relish for our new spring menu. We love to make Rhubarb Fool, an old English dessert; light as air with sharpness that balances the sweetened whipped cream
Rhubarb Shrub is something we look forward to making that is a little different. A shrub (other than the kind in the garden) is an old Arabic beverage made with fruit, sugar, and vinegar.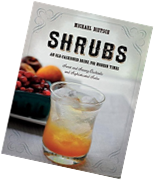 Amazing things happen when you combine these ingredients! It was a popular beverage in 17th century England, where alcohol was added to it. It travelled to America during the temperance days, where it returned again to being a soft beverage. As refrigeration became more common, shrubs (as a form of preserving) disappeared; it has recently made a comeback.  We make a variety of shrubs, many based on recipes from a book titled Shrubs: An Old Fashioned Drink for Modern Times, written by Michael Dietsch
Here's how we make Rhubarb Shrub (based on Michael's recipe)
1 pound rhubarb, peeled of fibrous skin and chopped into 1/2" pieces
1 cup white balsamic vinegar
1 cup granulated sugar
Chop the rhubarb, put it into a non-reactive container, pour the sugar over the rhubarb and let the mixture sit for 24 hours to macerate. Drain off and reserve the syrup, also save the sweetened, softened rhubarb for another use – its perfect for a pie or salsa etc. Put the syrup and vinegar back into your non-reactive container and let it sit in the refrigerator for a week. After which it is ready for use.
Make a simple soda with a couple ounces of shrub and soda water or get creative and make your favorite vodka cocktail with rhubarb shrub.