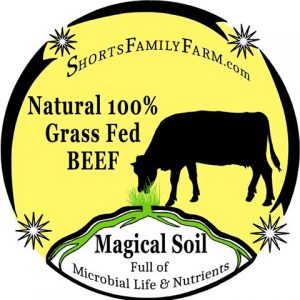 It all started in 1945, when Norris and Laura Short purchased the original farm property and Valley View Farm was born. They operated a small dairy farm and raised 9 children. In 1970, Roger (the second to eldest son) purchased 88 cows in the diary herd and rented half of the Valley View Farm.
In 2003, things changed. With growing regulations from all levels of government. In an effort to keep the family farm going that his father had started, Roger turned to raising the cattle for beef in addition to continuing the production of compost and topsoil (Magic Soil).
Now known as Short's Family Farm, the farm consists of 400 acres used for pasture, silage and hay production. Roger is the farm manager, wife Sandy does bookkeeping between volunteering as an EMT at the local fire department, son Bill works full time with the Magic Soil business and son Kevin handles the USDA beef sales.
Short's Family Farm lies in the rain shadow of the beautiful Olympic Mountains. Their natural 100% grass fed and finished beef is grown on the lush pastures of Chimacum Valley.
By frequently rotating pastures, the cattle learn to appreciate human presence. Consistently rewarded with fresh, untrammeled lush grass and clover makes them easy to handle. Even with over 100 mature cows and over 100 offspring, they know the unique individuality of their herd and the herd certainly knows them too. The established bond makes for a low stress environment. Special pastures for finishing 60-90 days before harvest boosts nutritional value, flavor, marbling and tenderness.
The herd is not feed any grain, antibiotics, growth hormones or steroids. Because the soils are mostly peat in a frequently flooded valley, cattle are moved into a large confinement area in the winter to protect water quality and salmon habitat and to reduce field plugging. Grass and clover hay and silage are fed at these times.
---
You can buy a whole, half or quarter. You can also buy individual cuts that are double paper wrapped and frozen. All harvesting, aging, cutting and wrapping is done under the watchful eyes of USDA inspectors.
Shorts Family Farm also provides a variety of soil ​materials to landscapers, farmers, gardeners and organizations. Soil products include Magical Soil, Biochar, ​Compost, Lawn Mix, Fine Red Bark and more…
---
Visit the Shorts Family Farm! ​Open Saturday's from 10am to 3pm. Purchase USDA-inspected frozen packages of 100% grass-fed beef directly from the farm! Located at 1594 Center Road in Chimacum, Washington
Farm Office 360.732.4601
​Roger Short (soil sales) 360.301.3521
​Kevin Short (beef sales) 360.301.4443