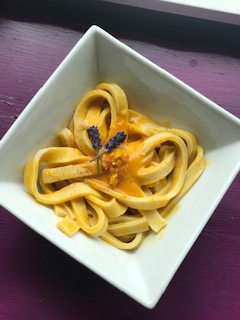 In response to our June Dine@Home Challenge, here is an entry for Scratch-made Carrot-Ginger Pasta from HomeChef Madelyn Pickens, age 16.
PASTA INGREDIENTS
4 eggs
2-1/2 cups flour
1 tablespoon olive oil
1 teaspoon salt
PREPARATION
Make a mound of flour and create a well in the middle for eggs, salt, and oil. Mix eggs in the well and then slowly incorporate flour. Keep mixing and mixing until you have smooth, dry dough. Roll dough out really thin, cut long strips, then leave the long strips out to dry. Cook in boiling water until tender.
SAUCE INGREDIENTS
1/2 tablespoon garlic
1 tablespoon finely chopped onion
1/2 tablespoon butter
1/3 cup milk
1 cup Nourish carrot-ginger soup
PREPARATION
Cook onion, butter, and garlic in a small saucepan on low heat. Stir in milk and carrot-ginger soup (more soup = thicker sauce).
Toss cooked pasta with sauce and serve.