EAT NOW
Dine-In or Take-Out

lunch

  THU-FRI-SAT-SUN  11:30 am – 2:30 pm


dinner

THU-FRI-SAT-SUN  4:30 pm – 7:30 pm
Specials will be posted
Daily Vegetables
SOUP SPECIAL
Vegetable Minestrone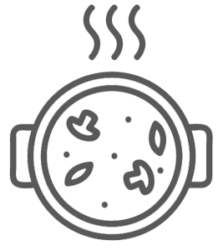 Soups, Salads and Gluten-Free Breads
Carrot Ginger Sweet Potato Soup (VEGAN)
topped with spicy pepitas, cup or bowl $8/10
Potted Cheese & Crostini
cheddars, beer, mustard, garlic, smoked paprika, chives with pickled onions, crudité vegetables  $15
Garden Salad (vegan/DF)
Seasonal greens & vegetables, toasted hemp hearts
Small or Large  $8/13
House Dressings: Pear Cider vinaigrette (Vegan/DF), Creamy herb dressing
GF Breads
Brazilian Cheese Bread $6
Garlic Brazilian Cheese Bread $7
Seeded Socca Bread – chickpea flatbread (vegan/DF)  $5
Lunch Main Courses
THU, FRI, SAT, SUN  11:30 am – 2:30 pm
Falafel Mezze Platter (Vegan/DF)
garbanzo quinoa patties (3), pumpkin apricot chutney, hummus, olive tapenade, spiced cashew pumpkin cream, pickled vegetables, seeded socca bread $22
fabulous with chevre!  + $3
Cajun Spiced Rockfish (DF)
masa harina & spices on seared NW Pacific Rockfish, curtido slaw, greens, preserved lemon creme fraiche, cheese bread bun served with choice of soup or salad  $22
Tipsy Lamb Burger
pasture raised lamb (OR), red wine garlic pepper jelly, chevre, greens on cheese bread bun served with choice of soup, salad, vegetable or potato  $22
Roast Chicken Pot Pie
organic chicken, carrots, mushrooms, potatoes, celery, onion in creamy chicken sauce under pastry top with salad $20
Warm Harvest Salad (Vegan/DF)
roast winter squash, cauliflower, apples/pears, potatoes & smoked mushrooms served warm on salad greens, pear cider vinaigrette, spiced pumpkin cashew cream, spicy pepitas  $18
delicious with OR Rogue Creamery Smokey Blue Cheese + $4
… ADD PROTEIN to your dish …
Chevre $3
OR Rogue Creamery Smokey Blue $4
Lamb Patty $10
Falafel Patties  $9
Rockfish $12
Flat Iron Steak  $20
Chicken Quinoa Nuggets (2)  $10
Dinner Main Courses
THU, FRI, SAT, SUN  4:30 pm to 7:30 pm
Cajun Spiced Rockfish (DF)
masa harina crusted seared NW Pacific Rockfish, topped with curtido slaw on spiced pumpkin cream, spaghetti squash, seasonal veggies  $26
Whiskey Cream Flat Iron Steak
pasture raised beef in burnt orange infused cream, whiskey sautéed mushrooms, roast garlic & bacon, tossed potatoes and seasonal veggies  $38
Tipsy Lamb Burger
pasture raised lamb (OR), red wine garlic pepper jelly, chevre, greens on cheese bread bun served with choice of soup, salad, vegetable or potato  $22
Pasta in Spiced Pumpkin & Garlic Cream (V/DF)
smoked mushrooms, kales, roast winter squash in cashew based sauce, with preserved lemon & peppery greens gremolata $24
Warm Harvest Salad (Vegan/DF)
roast winter squash, cauliflower, apples/pears, potatoes & smoked mushrooms served warm on salad greens, pear cider vinaigrette, spiced pumpkin cashew cream, spicy pepitas  $18
delicious with OR Rogue Creamery Smokey Blue Cheese + $4
Falafel Mezze Platter (Vegan/DF)
garbanzo quinoa patties (3), pumpkin apricot chutney, hummus, olive tapenade, spiced cashew pumpkin cream, pickled vegetables, seeded socca bread $22
fabulous with chevre!  + $3
… ADD PROTEIN to your dish …
Chevre $3
OR Rogue Creamery Smokey Blue $4
Lamb Patty $10
Falafel Patties  $9
Rockfish $12
Flat Iron Steak  $20
Chicken Quinoa Nuggets (2)  $10
Desserts
lunch & dinner, served with choice of mascarpone or coconut cream (vegan/DF)
Dessert Specials
see the top of this page for daily options
Mocha Layer Cake (vegan/DF)
slice $9
Pistachio Olive Oil Cake (DF)
slice $8
Almond Carrot Cake (DF)
slice  $8
Seasonal Fruit Crisp (Vegan/DF)
slice  $7
Red Wine Pours
6oz $11  |  9oz $15  |  Bottle $27
Dynamo Red, Harbinger Port Angeles, WA
6oz $13  |  9oz $18  |  Bottle $39
Pinot Noir, Compton Family Wines 2019, Willamette Valley, OR
6oz $14  |  9oz $19.50  |  Bottle $42
Cabernet blend, Guardian Cellars 2018, Columbia Valley, WA
6oz $15  |  9oz $21  |  Bottle $45
Syrah, Guardian Cellars 2017, Columbia Valley, WA
White Wine Pours
6oz $9  |  9oz $13  |  Bottle $27
Riesling, Nine Hats 2016, Columbia Valley WA
La Petite Fleur, Harbinger Port Angeles, WA
6oz $10  |  9oz $13.50  |  Bottle $30
Pinot Gris, Compton Family Wines 2019, Willamette Valley, OR
6oz $13  |  9oz $18  |  Bottle $36
Albariño, Abacela 2019,  Umpqua Valley OR
Grüner Veltliner, Illahee 2019, Willamette Valley OR
6oz $14  |  9oz $19.50  |  Bottle $42
Chardonnay, Baer Winery 2019, Stillwater Creek Vineyard, WA
Rosé & Bubbles
Browne Rosé  6 oz $12  9oz $16  Bottle $34
Illahe Cap Fizz  187ml $13
Beer & Cider
Finnriver Ciders 16.9oz bottle  $15
Port Townsend Brewery  $13
Ghostfish 11oz  $7   22oz  $15
Pfriem $8
Aslan  $7
Bravus Craft Non Alcoholic  $7
Craft Cocktails
Our bar focuses on Northwest spirits with both modern and classic cocktails crafted for your enjoyment, featuring our house-made syrups, & cordials. Sip on a craft cocktail when dining in or add it to your to-go order. See our current offerings.
Coffee & Tea
Sequim Spice & Tea  Black, Green, Herbal & White
Pot for one $5   Large pot to share $8   Iced Tea $4
Rainshadow Coffee Dark Blend
French Press $8  Mug Drip coffee (includes refills) $4
Sodas & Shrubs
Italian Style Sodas (Nourish syrups) $5
House Shrub Sodas $5
Dr. Brew Kombucha  $5.5
Fever Tree Soda  $3.5
Pasta Butter & Parmesan Cheese $13
Chicken Quinoa Nuggets (DF)  $13
ground organic chicken, garlic and quinoa formed into a nugget and baked, creamy herb dip or ketchup (DF) served with root veg chips
Rockfish Taco (1)  $13
corn tortilla, lettuce, creamy herb dip or ketchup (DF), served with root veg chips
Cheese Quesadilla $13
Served with root veg chips
Lamb Burger    $16
lamb patty, cheese bun, creamy herb & lettuce served with root chips
Complimentary Chocolate Chip Cookie (V/DF)
At Nourish, delicious flavors and beautiful plates are balanced with nutritional and environmental awareness, served in an inviting atmosphere to create an intentional dining experience. We grow our own produce as well as purchasing directly from local farmers, fishermen, foragers, artisans and ranchers to source the best ingredients possible with which we create our menus. We make everything in our dedicated gluten-free kitchen and our menus change frequently, with the seasons.
PRICING AND MENU OFFERINGS MAY DIFFER FROM WHAT IS SHOWN HERE
Serving real food made the way nature intended with added love from our farm kitchen
Our ingredients are seasonal, mostly organic, seasonal, local when available and non GMO
We choose meats and poultry that are kindly raised and seafood that is sustainably harvested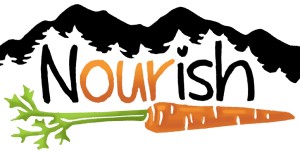 Address
101 Provence View Lane
Sequim WA 98382
Hours
Thursday, Friday, Saturday, Sunday:
11:30am – 2:30pm
4:30pm – 7:30pm
Monday: CLOSED
Tuesday: CLOSED
Wednesday: CLOSED